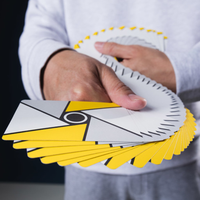 VIRTUOSO SPRING/SUMMER 2016 PLAYING CARDS
The Virtuoso deck made history in 2012 as the first deck ever designed for Cardistry, and remains today as the choice of top cardists around the globe. This year, the Virts created the boldest and most breathtaking Virtuoso deck to date, awaits you to experience it.
Borderless Adventure
The new SS16 Virtuoso deck features an edge-to-edge back design that wraps over to the faces to form streaks of black and yellow. The deeper lines further amplify every rotation, and accompanied with dashes of cadmium yellow, artfully wrap over to the faces to paint streaks of color when spread.
Display a face on its own, and you'll notice how the bands seamlessly extend from the back and perfectly align with it. It's a small detail, but one that makes all the difference in making your every flourish look more fluid and connected.
Designed For Cardistry
Composed of an elegant array of geometric shapes derived from Cardistry's core movements and forms, the Virtuoso deck features an innovation called Adaptive Aesthetics – a functional back design that gives the appearance of shifting shapes, swirling lines, changing colors, and connecting patterns to visually accentuate every card flourish you perform.
With gorgeous artwork and illustrations set on the finest casino-grade materials, and handling characteristics optimised to the demands of the top Cardists in the world, the result is a deck with unprecedented form and function – the only deck true designed for the art of card flourishing.
CARDISTRY TUTORIAL DOWNLOADS WILL BE SENT WITHIN 24 HOURS OF PURCHASE