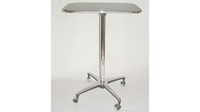 The Table the World Awaited (Chrome) by Rich Hill - Trick
This table is the working magician's dream!

No need to search for the appropriate-size counter top or table - bring this beauty with you!

In 2007, by special arrangement with Charlie Fenn of Dancing Spring Magic, Rich Hill's Illusion Shop became the exclusive manufacturer for The Table the World Awaited.

Very Solid and Sturdy!

Table top measures 16 x 24 and the table stands 32 3/4 inches high.

Now comes complete with Silent High-Quality Shepherd Ball Casters.

Comes apart in 3 components: The Table Top, the Upright, and the Rolling Base.

Assembles in less than 10 seconds!