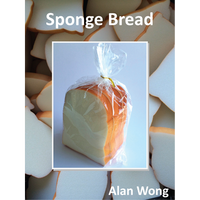 Sponge Bread (four slices) by Alan Wong - Trick
Sponge Bread by Alan Wong
This sponge sandwich bread looks so real you will be tempted to eat them! Wide range of magic applications and here are just a few great ideas and lots of comedy:
Make them appear and disappear and change places
Do a 3 bread repeat routine
Do a flying bread routine (as flying cards routine)
Unlimited bread production
Make a card sandwich to have selected card appear in between 2 slices of bread
Make a chicken sandwich with a rubber chicken (Provide your own chicken)
Put a white silk into a change bag and have the kid change it into bread instead of red (Credit to Silly Billy)
Any comedy divine revelation on toast by painting your image or message on the sponge bread or cut out from the sponge bread.
Come with four slices full size sponge sandwich bread in a sandwich bag and no instructions. Not suitable for eating.