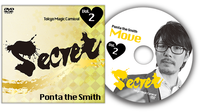 Secret Vol. 2 Ponta the Smith by Tokyo Magic Carnival - DVD
Ponta the Smith is a living legend in the world of coin magic. He's best known for his highly skilled technique and extremely deceptive handlings. His DVD, Sick, released in late 2009, amazed magicians all over the world. At last, after 18 years since this legendary DVD, his new work is finally being released.
In this new DVD,
Secret Vol. 2 Ponta the Smith Tokyo Magic Carnival
, you will witness this master at his very best. Ponta has accumulated new concepts and techniques that have never been released before -- and now he is willing to share them with YOU! All of Ponta's new material is impromptu and no gaffs are necessary. 100% sleight of hand!!
Evolved handlings of coin plots
Bottle Production
Clipped Wings
Three Coins Across
Homing Coin Magic
Three Fly
Bonus!
A magic session and a discussion with Cardician, Ars. He is a leading performer in the field of card magic who appears in Secret Vol. 1.
The Making of the Tokyo Magic Carnival Movie (5 magicians session)
Language: Japanese, and dubbed in English
This video was recorded with high-speed cameras -- this makes it very easy to follow each step.