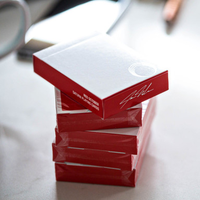 Saturn Playing Cards (Red October)
This is the second installment to the Saturn series of playing cards in the new "Red October" colorway.
From Franky Morales...

As a Cardist, the way playing cards feel after being handled for long periods of time matters a lot to me.

I want a deck of cards to be able to fan evenly, spring without too much tension, and break off nicely for packet cuts.

That is why I have to decided to print on Crushed Bicycle Stock with Embossed Finish, perfect for long use and resiliency.

Some of my favorite decks from the US Playing Card Factory, Keepers and Tally-Ho's, are printed in a similar way.Saturns are back in a red colorway that is highly inspired by the Fall season. 
Funded in 32 hours, the Red Octobers smashed our previous Kickstarter records. With over 500 people backing and over $32,000 raised in just 30 days, its safe to say these are a must have for any cardist
Printed at the United States Playing Card Factory.

Saturn logo is slightly larger than the previous blue version.

Bicycle Stock/Embossed Finish.

Blades were sharpened before production to ensure precise cutting.

The playing cards were cut with the back design facing down - traditional method.

Standard tuck with silver foil hot stamped around the box.
Want to complete you collection with the ultra rare Blue Saturns? Click Here
"MY FAVORITE DECK OF CARDS"
- Shin Lim


"WHAT ARE WYNNS?"
- Franco Pascali


"RED SATURNS ARE MY ABSOLUTE FAVORITE DECK OF CARDS."
- Anthony Whitford


"SATURNS RADIATE CONTEMPORARY AESTHETIC. THE CLASSIC WYNN DECK REITERATED, REFINED AND REIMAGINED."
- Patrick Varnavas


"FRANKY HAS IMPROVED EVERY ASPECT OF THE ORIGINAL SATURNS. I CAN'T WAIT TO TRY THESE CARDS."
- Spencer Clark


"THE PERFECT DECK, AS IF IT'S BEEN TAKEN FROM THE 70'S AND PRINTED WITH MODERN GRANDEUR THAT ONLY FRANKY WOULD BE ABLE TO ACHIEVE."
- Gianluca Hayes


"THESE CARDS BELONG IN THE HANDS OF BOTH MAGICIANS AND FLOURISHERS; AND THEY WILL ELEVATE YOUR STANDARD OF WHAT VISUAL GRACE IS WITH 52 PIECES OF PAPER.

I WOULD BE HAPPY ONLY USING SATURN'S FOR HE REST OF MY LIFE. PERIOD."
- Chris Severson