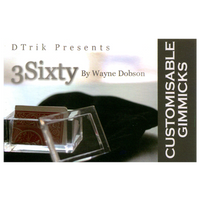 Refill for 3sixty by Wayne Dobson - Trick
Customisable gimmicks for the 3Sixty.

So you have 3Sixty and you want to use you own brand of card, do a billet prediction, bill to impossible location or perhaps a lottery prediction? Well now you can.

Comes with 2 customisable gimmicks.

DOES NOT INCLUDE 3SIXTY BOX OR INSTRUCTIONS!