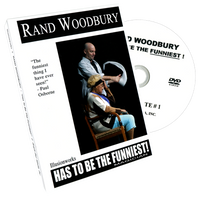 Rand Woodbury Has To Be The Funniest Magician by Rand Woodbury - DVD
RAND WOODBURY - "Has To Be The Funniest!" - DVD

The guy who wrote the 'illusionworks' books has a secret talent and he shares it on this 'new' DVD. "This footage was never supposed to be released to the public!", says Woodbury. Rand's ability to interact with audience members is remarkable. Paul Osborne said, "It's the funniest thing I have ever seen!" It is this secret talent that has kept Rand Woodbury working full time (performing magic) for the last 30 years.

This DVD demonstrates Rand's ability to interact with complete strangers (in the audience) to produce hysterical results! This DVD basically shows you: 'How to "take any small trick and make it play HUGE" and it demonstrates how he actually changes the focus of the effect to achieve his desired results.

He's in a theater full of 1300 people, stripped of the boxes, and Rand ... simply destroys the audience - and they love him for it !!!

This DVD part of the new 'TE' SERIES from illusionworks,"It's actually teaching entertainment", Rand. This DVD answers one simple question, "If the magic boxes don't show up, how do you entertain a theater full of people?"

This is incredibly helpful and vital information for any entertainer wishing to add 'audience participation' to his or her repertoire. The material covered on this disc will prove to be wonderfully beneficial and is without-a-doubt absolutely entertaining. The performance footage is AMAZING!

"My job was never to do 'tricks'! Anyone can do a trick. My job was to craft memories ... for people I had never met before." - Rand Woodbury

This DISC contains LIVE performance footage and a documentary.