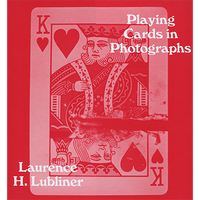 Playing Cards in Photographs by Laurence Lubliner
From the ridiculous to the sublime - and everything in between - this book showcases hundreds of historic, funny, fun, and fascinating appearances of the lowly playing card in a range of fascinating vintage and contemporary photographs.
They appear in games worldwide, of course. But take a moment to minutely examine a subject, as author and collector Laurence Lubliner has in this book, and you'll uncover the most unusual things.
In
 Playing Cards in Photographs
, Lubliner visually chronicles the countless unusual situations and settings in which cards have appeared over the last 150 years. Here, we see them on troop transport ships, in museums and store windows, on the sides of airplanes, in the hands of magicians, in the form of gigantic yet fragile pasteboard structures, on costumes, passed under tables by gamblers, in store windows - and virtually everywhere else.
The book is a visual feast for collectors, photographers, designers, card aficionados, magicians, history buffs, and lovers of the odd & unusual.
96 pages in giant 11 x 11" hardcover, with over 100 vintage photographs, text printed in two colors.