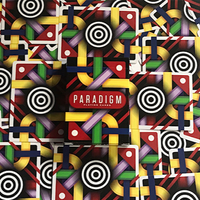 LIMITED EDITION: Only 2500 printed! Will NOT be reprinted.
A
Paradigm
is a standard, perspective, or set of ideas. A
Paradigm
is a way of looking at something. I set out to do just that, and after a year in the making,
Paradigm Playing Cards
is here. The cardistry community is fascinating in every aspect of the word. I wanted to design a deck that was engineered specifically to your favorite flourish while also being a magician's best friend. A crossover deck in many ways, or the best of both worlds. I wanted to design a deck with which you could begin by showing the slickest packet cut off, then right after do an Ambitious Card routine! With pretty standardized Pips and indices and standard reimagined Courts, this deck is sure to not raise any suspicion. Although the concept and design are mine, I couldn't have brought this deck to its final glory without my two best friends.
Daniel Schneider (Black Roses Playing Cards, Orbit, Polyantha) and Luke Wadey (Mono-X, Grid, Typographic Playing Cards) played a pivotal role in the life of this deck. Daniel helped bring the visions of the number and court cards to life and is the leader in custom Courts. He proved it again with the six custom Courts in this deck. Luke took my original back design, broke it down and reimagined it, giving it depth and formatting it to an intricate grid; whilst also designing an infinite tuck box design, perfect to the style of the deck.
Limited edition 2500 print run
Printed by USPCC
Crushed Premium stock
Traditionally cut
Air Cushion finish
Duplicate 3 of Hearts
Duplicate Jokers
6 custom Courts
Card reveal
First edition