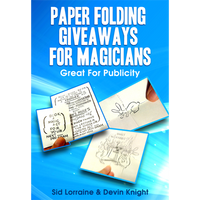 Paper Folding Giveaways For Magicians by Sid Lorraine & Devin Knight - Trick
Sid Lorraine was a master at creating these giveaways. These all involve a picture or words that change to a different picture or words as you fold the paper. Each paper fold has an amusing and novel story. At the end, you leave the paper with the spectator with a plug for your magic show. Your name, website and phone number is rubberstamped on the back. These were originally released through the Abbott Magic Company back in the 50s. Devin Knight has received permission to release these again to the magic world and introduce a new generation of magicians to the genius of Sid Lorraine. You receive designs you can print using your computer or take to a copy center to run off copies.
If you work restaurants or do strolling magic, there is no better way to leave your booking information with the spectator. Far more effective than business cards. People will keep these and show them to their friends because they are amazing novelties. Every time they show the paper-folding gag, it promotes your name. These are unlikely to be thrown away.
You get four different paper-folding giveaways. Some of these were originally released under the name of Fold N' Fun. These are near impossible to find nowadays. In the original releases, some patter is outdated, because these were released more than 50 years ago. Devin Knight has updated the patter and included new ideas.
BOOK-BOOK-BOOK
Show the spectator a small sheet of paper that lists the acts your agent represents. You say you are upset because there is no mention of magic on the flyer, and HE IS YOUR AGENT! You say your agent insists there is and points to a line that says: See Folder For Best Choice! You say he didn't give you a folder, and he says YOU ARE THE FOLDER. You give the paper two quick folds and the flyer turns into a piece of paper that says: Book A Magic Act For Your Next Program. You turn the paper over and there rubberstamped on the back is your name and number. You tell the person to keep this and show it to his friends and the next time anyone needs a magician to call you.
MONEYBAGS
A very novel paper folding giveaway, that comes with two presentations. Magician shows a drawing with four moneybags totaling more than ten million dollars. As the paper is folded, the bags turn into a much smaller amount due to taxes. Finally, with the last fold, you have a bag that shows only $1.25 on it and a picture of an ice bag that you need for the headache the tax man caused you. The magician says this is his true wealth and that won't last long, so if you need a magician; call the number on the back. You tell him to keep the paper to show his friends about your misfortune.
There is also a great comedy story about an old newspaper man. If you take the drawing to a copy center, you can have them enlarge it onto a large sheet of paper that can be seen from stage. This is as funny as the Magic Manor or Grave Mistake that many magicians use. This is one stage paper fold your audiences haven't seen before. This is so old that it is new again!
YOUR NAME PUZZLE
This is one you can easily make by hand or on your computer using Microsoft word or some other publishing software. The magician hands the spectator a piece of paper that has the names of about 30 dead magicians on it. These are famous names from the past. The performer says, "Can you find the ONE LIVING magician on this list?" After the spectator gives up, you give the paper two quick folds and suddenly your name appears! In fact, it is the only name the spectator can see. When you turn the paper over to show the back, you point to your website and phone number. You let him keep it to show his friends, to see if they can find the one living magician.
WHAT! NO RABBIT?
This is one of best promotional pieces ever designed for promoting birthday parties. It was first released as a bonus paper giveaway included with Sid Lorraine's Magic Manor in 1973. If you do birthday party shows, then this will help increase your bookings. This giveaway is given to all the kids. It is a simple trick or puzzle they can do. You encourage them to take it home and show their parents how they can make a rabbit appear.
This is far more effective than the big dollar bills with tricks on them, because with this, the kids have the prop they need to do the trick. Every time they show the trick to someone, your name and phone number is seen on the front of the paper. What more could you ask for as far as a promotional giveaway?
The basic idea is to show a flyer for your show and say a rabbit is hidden on it. Can the kids find it? They can't, but by making two simple folds, the rabbit magically appears. This is extremely clever and something you will want to give to every child. A simple trick they can do that will only cost you a few cents for each you giveaway.
Complete with 28 Starter Papers which can be copied by you
This Is Not Origami
No Skill
Easy To Do
Learn In Minutes
Pages: 7 - 8.5" x 11"