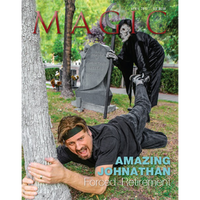 Magic Magazine "The Amazing Johnathan" April 2015 - Book
An Amazing Conversation with Johnathan
By Stan Allen
When The Amazing Johnathan announced he was retiring and had a year to live, it was not the kind of shock he was used to delivering to an audience. Stan Allen sat down with "The Madman of Comedy and Magic" to talk about Johnathan's life, career, medical problems, and what might or might not be in his future.

The Making of Magic
By Steve Marshall
How does a magic trick go from concept to production to the dealers' shelves? It is a process Alan Wong is very familiar with. This Hong Kong-based magician has shepherded numerous products to market, and explains some of how it happens - and teaches a trick as well.

Garry Carson - Helping Others Help Others
By Rory Johnston
Garry Carson's Sponsor Magic Link is a nonprofit organization that raises money for other nonprofits. They do this by producing Carson's touring magic and illusion show, a win-win for sponsors and audiences alike.

Shuffling Erdnase
By Alan Howard
David Ben is just one of many magicians who have been influenced through the years by The Expert at the Card Table. Yet while others have given their interpretations of the text, he has reshaped it, to make the work look completely different.

Plus Updates on...


The 2015 Blackpool Magicians Convention.
The 25th anniversary of John Hirokawa's Magic of Polynesia.

Bonus Content for the April Issue...

A video sampler of The Amazing Johnathan and Psychic Tanya in performance.
Performance video of Garry Carson.
Video of a bonus trick from Alan Wong, the Multiplying Chocolate Bars.
Tutorial videos of Dani DaOrtiz' Coincidence Trick, forcing a card that's not even in the deck, and Jeff McBride's simple-to-do back-palming effects. *
All eighteen of the products reviewed in the April issue, plus over 400 reviews from previous issues, are all now available at the fully searchable "Marketplace" section. *

(* Available for subscribers only at M360)

Marketplace
Eighteen products are reviewed this month by Peter Duffie, Gabe Fajuri, Jared Kopf, Francis Menotti, Peter Pitchford, John Wilson:
1% by Yu Hojin
Destination Zero by John Bannon
Unreal by Joshua Jay
Catch Up by Karl Hein
Coffee Shot by Chris Webb
Access by Rizki Nanda
String Theory by Vince Mendoza
Impression by Jason Yu
Tricks Against Humanity by Eric Ross
Piddington's Secrets by Martin T. Hart
The Forces Project by Big Blind Media with Liam Montier
Candle Lite by U.F. Grant
Vibe by Bob Solari
Hands Free Prediction by Lynx Magic
Total Recall by Manuel Llaser & Vernet Magic
Lynx Wallet by Gonçalo Gil and João Miranda
Unload by Anthony Stan
Space Shifter by Nicholas Lawrence and SansMinds

Your Magic
Steve Reynolds
The title of this column, Your Magic, means just that. This is a call to action for you and our creative readership. Your Magic will be as good as its contributions. It's with this sentiment that I open up this forum to all of our readers who have something of value to share. This column will appear a few times a year, so that you will have a variety of magic and a diversity of voices. The more great contributions we receive, the more we can share. This installment features three contributions from varying points of interest. The first, from Cutis Kam, is a finessed coin sleight that will delight the technophile. Second, for the close-up card worker, Jay Jayaraman shares a beautiful display for Vernon's Triumph. I've included a description of Vernon's easy handling of the Strip-out Shuffle, so those that are not "in the know" will now know. And lastly, Irving Quant lays out a practical corner duplication technique that allows the entire audience to quickly and easily see that the card and corner match perfectly.

First Look: Crafted With Carey
John Carey
In the past five years, John Carey has built up an international reputation for his creative and streamlined approach to close-up card magic. John has no time for long-winded, angle-ridden magic pipe dreams; all of his material is stamped with practicality. With half a dozen DVDs to his name, John is constantly on the road doing workshops and lectures in the UK and Europe, as well as giving private teaching sessions in person and via Skype. A former railway worker living in Sawbridgeworth, Hertfordshire, 46-year-old Carey now performs at weddings and private parties in addition to lecturing. This card effect, Thinking & Synching, comes from his first book, Crafted With Carey.

Loving Mentalism: The Try Principle
Ian Rowland
This month's little miracle comes from guest contributor Peter Turner. Suppose you are enjoying coffee with a group of friends. You offer to demonstrate a little mind control. You invite one of the spectators to lift up a coffee cup - which, of course, he can easily do. You then perform a little "mind control" voodoo, and he now finds that he cannot lift the cup! He is really trying and he is not hypnotized, yet the cup won't move! The same goes for any simple task people care to suggest: saying his own name, counting to ten, or anything else. First he can do it, then he can't, and you apparently have complete control over his mind. The method involves a new and delightful principle that you will enjoy playing with.

Bent on Deception: Please, Don't Raise Your Hands All at Once
Mike Bent
You've rehearsed your routines over and over, all the moves are slick, the jokes are funny, the props look great and are in working order with the freshest batteries. The venue is beautiful, with great sound and state-of-the-art lighting. You haven't even gone on yet, but you can just tell by the buzz that the audience is going to be great. Every I is dotted and every T is crossed. The conditions are all aligned for a perfect storm of fun. What could go wrong? If you use volunteers in your show - everything.

The Monk's Way: Easy Coin Cut
Steve Reynolds
This update on a classic uses the mechanics of a card force as its main method. It allows for a bold but trouble free handling of U.F. Grant's Coin Cut. The force is an old one and was developed further by Dai Vernon and Larry Jennings, then later finessed by Jon Racherbaumer as the Big Easy Force. Its application to this effect is unique and will have you rechecking the things you already do, and seeing how they can be creatively applied to existing effects that you thought were perfected long ago. Be enticed by the little voice in your head that eventually says, Surprise, surprise, surprise.

Classic Correspondence: Ira Davenport to Harry Houdini
Mike Caveney
The attraction of this extraordinary letter is not that it was addressed to Harry Houdini, but rather that it was written 106 years ago by one of the legendary Davenport Brothers. I daresay there are thousands of Houdini letters floating around, but precious few from the men who invented the Spirit Cabinet and became international stars during the infancy of Spiritualism. The Davenport Brothers in no way believed in Spiritualism, but they did know a good thing when they saw it. They developed a simple act in which they were tied to two chairs, the lights were extinguished, and physical manifestations ensued from the presumed actions of spirits. Since one lit match could expose the fact that the boys were actually escaping from their bonds, creating havoc, and then returning to their restraints, they moved their chairs into a large wooden cabinet, which added an extra layer of concealment to their surreptitious movements. And thus the Spirit Cabinet was invented.

For What It's Worth: The Great Wall of Intellectual Property Theft
Mark Kornhauser
Thousands of counterfeit magic books, DVDs, and props are available from online manufacturers and distributors who flagrantly disregard compensating creators. Enormous rip-off operations are thriving in China, India, Europe, and almost everywhere, profoundly affecting both the art and the business of magic. We generally think of black-market transactions as taking place in shadowy alleyways, out of view of the general public - at least that's how I've done it. But on the Internet, the entire black market and fifty shades of gray are all openly on display. Overseas websites are well known. Whack-a-mole torrent sites offer thousands of illegally copied books and videos. Knockoff illusions are frequently and shamelessly paraded onstage. The inability of the magic community to enforce the protection of intellectual property seems to be an unavoidable downward spiral.

Walkabout Soup: Fringe Festival Walkabout
Simon Coronel
For those who don't know, a Fringe Festival is typically a performing arts festival that places no restrictions on what kinds of shows can be involved. Anyone can sign up and produce a show, as long as they're willing to invest the registration and venue hire costs, which are usually pretty reasonable. The whole point of these festivals is to bring together a huge variety of performance art experiences, and keeping costs low is an important part of that. Consequently, Fringe Festivals tend to attract all kinds of weird and wonderful and sometimes horrible performances that you might not see anywhere else. There are now over 200 different Fringes in cities all over the planet. I'm a big fan of them. I've benefitted hugely from my involvement in Fringe Festivals over the past few years.

Your Stories: My Best Tip
Gerald A. Schiller
Last December, I was booked for the second time to do a citywide New Year's Eve party in Fullerton, California. The city blocks off streets in the downtown area, hires entertainers and assigns them to street corners, and lets revelers wander about to hear music, partake of food delicacies, and even watch me do magic. It's generally fun for all. By the time seven o'clock arrived, the auditorium was full. I realized that my name and reputation meant very little compared to a warm place out of the chill, but with lots of kids in attendance, the show was great fun - for the audience and definitely for me, as well.