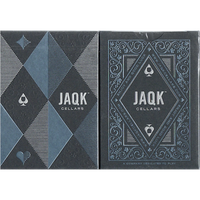 A collector's item. A masterpiece. The most elegant decks you've never seen.
JAQK Signature Playing Cards combine distinctive design with the peerless quality of the world's largest playing card manufacturer - The United States Playing Card Company.
Based on original artwork created by an award winning winery in Napa Valley.
This beautiful, one of a kind deck is now available at got magic shop - with brand new stock, feel, and finish that rivals the rest of our classic cards.
The moment we saw the gorgeous custom tuck case with embossed scrolls, metallic inks, and imported French paper, we knew they had to be introduced to the magic and cardistry community.
They are a new breed of elegance in playing card design.
A deck that is as beautiful as it is functional, JAQK playing cards are a collector's item that will draw compliments every time the cards are cut. And they handle like a dream. Available in blue and printed on the finest stock to ensure durability, fanning capability, and snap.
Rare, refined, and an instant collector's item. Enjoy and Good Luck.