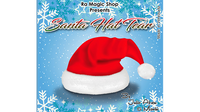 Santa Hat Tear by Ra El Mago and Julio Abreu - Trick
Here's a timely magic trick for the Christmas holidays - and with children, it's so cute!

Santa Hat Tear, by Ra El Mago and Julio Abreu, is a great and interactive trick. The magician asks for an assistant from the audience to come up on stage. Then he shows two pieces of paper, one white and one red. Both pieces are torn and transformed into an incredible Santa Hat. Finally, the magician gives the hat as a gift to the assistant. This is an excellent trick and a wonderful surprise for the audience.