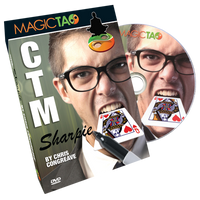 CTM (Card to Mouth) DVD and Gimmick by Chris Congreave and Magic Tao - Trick
From the creator of 'Light' and other best sellers comes the 'CTM' (Card To Mouth) gimmick.

The CTM gimmick is an embedded utility device, using a sharpie, with inbuilt misdirection. Magicians carry a Sharpie with them all the time, so why not have one that can be used as part of a routine.

Chris sits down with Gary Jones and teaches you three different routines using the CTM gimmick. Many people find the are unable to perform card to mouth routines due to not being confident with the misdirection involved. Not anymore. CTM takes all the worries of misdirection away as it is the misdirection - Clever stuff!

Even if you already do a card to mouth routine, you can add CTM to your repertoire to add an additional phase.

Specially designed and printed sharpie supplied for this routine! Plus a DVD with full explanations.