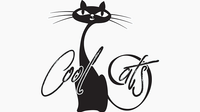 Cool C.A.T.S. by Matthew Wright and Toby Davies - Trick
Learn card sleights that you've always wanted to perform!

Cool C.A.T.S. is a collection of Cop And Tenkai Sleights brought to you by Matthew Wright and Toby Davies. With over an hour of detailed instruction showcasing some of the most visual and useful controls, productions, vanishes, and changes, Cool C.A.T.S. is a must-have for any card enthusiast.

Featuring never-before-taught techniques directly from Matthew's three-time FISM award winning act, you can follow along with both verbal and silent over-the-shoulder "super practice" sessions. These help you master the moves in super quick time. The DVD includes moves such as:

Tenkai Palm
Tenkai Palm Production
Tenkai Palm Vanish
Multiple Productions
Two Handed Multiple Productions
Figaro Transfer
Figaro Switch
Figaro Card Shatter
The Basic Cop
Cop Switch
Cop Turnover
Cop Utility Move
Cop Bold Move
...plus, many more!

Cool C.A.T.S. also includes the opening to Matthew's FISM act itself... The Marvelous 3 Ace Trick.

This DVD will teach you how to master these sleights.