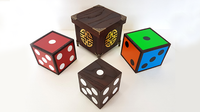 Color Changing Dice (4 Wooden Die) - Trick
Get spontaneous applause and WOW's from your audience!

Show a giant white die on all sides. Place it into a box. Take it out of the box, and it is now RED! Again, show it on all sides and place it back into the box. Remove it, and now it has different colors on all sides! Unbelievable!

Fun to perform, and this gets a great reaction.