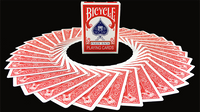 Bicycle Paris Back Limited Edition Red Playing Cards by JOKARTE
Very Rare, old-fashioned cards for collectors, magicians, and amateurs.
A new edition exclusively launched by JOKARTE:
Bicycle Paris Back Playing Cards
. Magician Jean-Charles Briand conceived the vintage design of this new deck. It includes a double back card, as well as a mystery to figure out!
Limited Edition created and designed by Jean Charles Briand, produced by USPCC, made in USA for JOKARTE
Bicycle Air-Cushion Technology
Double back card for magic tricks and a special mystery to figure out
Vintage playing cards of the magic city of Paris