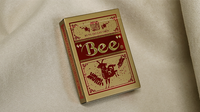 Bee Year of the Sheep Deck (Star Casino) Playing Cards
The Year of the Sheep (or Goat, as this is the same in Chinese) ran from February 2015 to February 2016. To celebrate this, Bee released this commemorative deck. Earlier years of the sheep were 1979, 1991 and 2003.
In the Chinese astrological zodiac, those born under the sheep are friendly, peaceful, and popular. The deck reflects this with a happy deck full of Asian symbolism. It also displays the Star Casino logo, which can be seen on the box as well as on the card backs. The star shimmers in a fascinatingly different manner on the box and the card backs, which will be fun for you to point out to your audience. You will enjoy working with this clever deck, as you note the symbolism of this special year.
Printed By USPCC
Bee Casino Stock
Limited Print Run