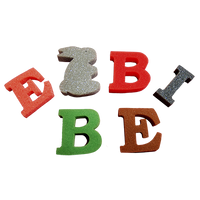 Alpha-Bits Letter Pack (Regular Sponge) by Goshman
Presentation suggestions by Barry Mitchell & Brainstorm Team
Be the Punny magician at your next show. Alpha-Bits sponge letters add a fun (pun) addition to close up or stage routines. The letters are 2-inches tall and the perfect thicknes to stand up to use. The colors are colorfast in the foam so you can use the different colors along with other sponge ball routines without fear of the dye bleeding over on lighter colored balls. Comes with the A to Z of punny jokes.
Letter pack includes: 4 Black I's, 4 Brown E's, 4 Red B's, 5 Green B's (Green B may be cut to make Green P) 4 Red E's, and five Gray rabbits. The letters in this pack have been chosen to create the greatest number of puns. Comes with an AMAZING number of jokes and ideas for use.